Two Simple Recipes to Make on Your Next Camping Trip
Planning to spend time outdoors this summer? Whether you're going camping, picnicking with friends, or setting out for a day hike, our Hard Boiled Eggs will allow you to spend less time meal-prepping and more time enjoying the fresh air and sunshine.
Egg Salad Sandwich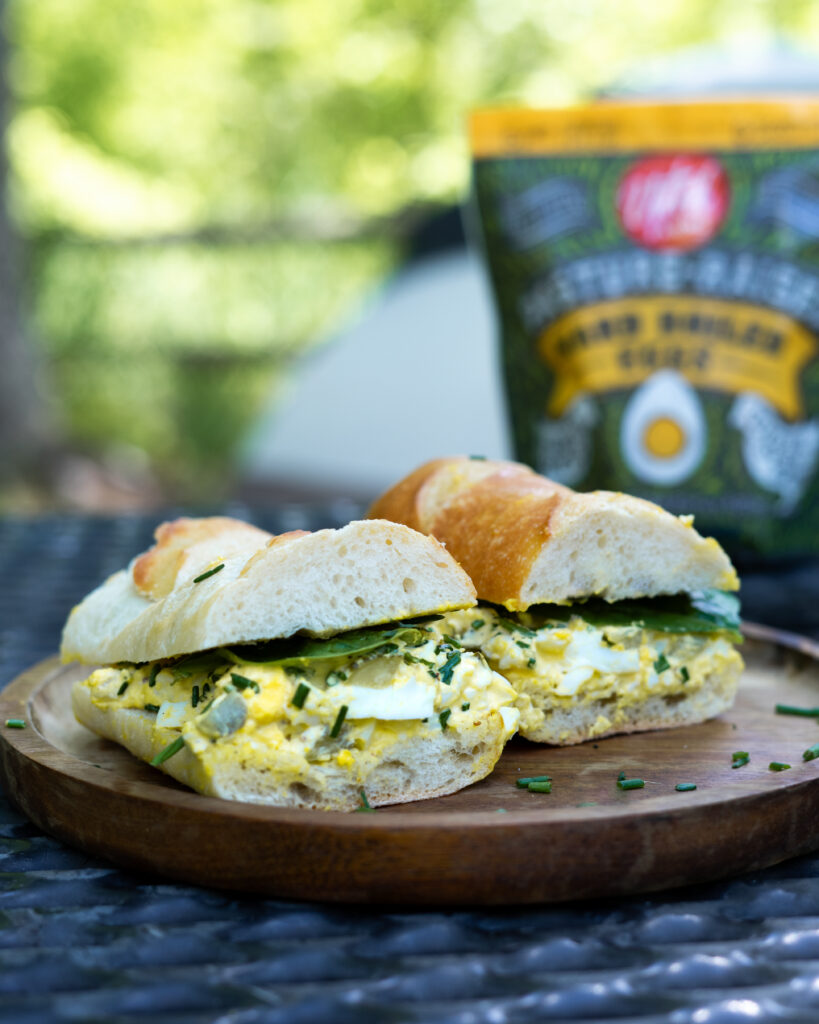 Fact: Sandwiches always taste better outside.
Satisfy your lunch craving by mashing a bag of hard boiled eggs with creamy mayo. Stir in some crunchy pickles and dress it up with chives to create an easy, packable sandwich that can be prepared and eaten anywhere you go.
Makes 2 sandwiches
INGREDIENTS
6 (1 bag) Vital Farms Hard Boiled Eggs
1/4 cup mayonnaise
1/4 cup pickles, finely chopped
1 teaspoon mustard
1 tablespoon chives, minced, divided
1 teaspoon lemon juice
Salt & pepper to taste
1 baguette
1/2 cup greens
INSTRUCTIONS
1. Mash the Hard Boiled Eggs in a bowl with mayonnaise, pickles, mustard, half of the chives, lemon juice, salt, and pepper.
2. Slice a baguette open horizontally.
3. Spoon egg salad mixture onto one side.
4. Sprinkle with remaining chives and layer with greens.
5. Sandwich together and slice in half. Serve with your favorite chips.
Camp-Friendly Charcuterie Egg Board
Settle into the evening around the campfire with friends, family, and an artfully crafted charcuterie board.
INGREDIENTS
1 firm cheese
1 soft cheese
2 meats (prosciutto and salami)
3 (1/2 bag) Vital Farms Hard Boiled Eggs, sliced in half
Salt & pepper
Crackers
Fresh fruit
Mini pickles
Trail mix
Dried Fruit
INSTRUCTIONS
1. Start by adding cheese and meats to the plate.
2. Add Hard Boiled Eggs. Sprinkle with salt & pepper.
3. Fill in the gaps with crackers, dried fruit, nuts, mini pickles, and fresh fruit.
VITAL TIP
Make the perfect pairing by layering a cracker with egg, cheese, and salami!