Raised
on Family Farms
The butter in the pack you just scanned begins with farm-fresh cream from ethically raised cows. These four-legged girls are raised on family farms, many of which have been around for generations. And the folks who raise them? Well, we can't wait for you to get to know them. We'll be updating this page with new farmer stories and videos as we introduce you to more of our dairy farmer community. Keep scrolling to see the farms (and the girls) for yourself.
Vital Farms began with a single farm and a commitment to animal welfare. As we grew, we didn't make that farm bigger — we found more like-minded farmers who put animals first. Today, these ethically minded family farms share our passion for animal welfare and sustainable farming practices. Swipe through the pics below for a peek into the lives of the girls.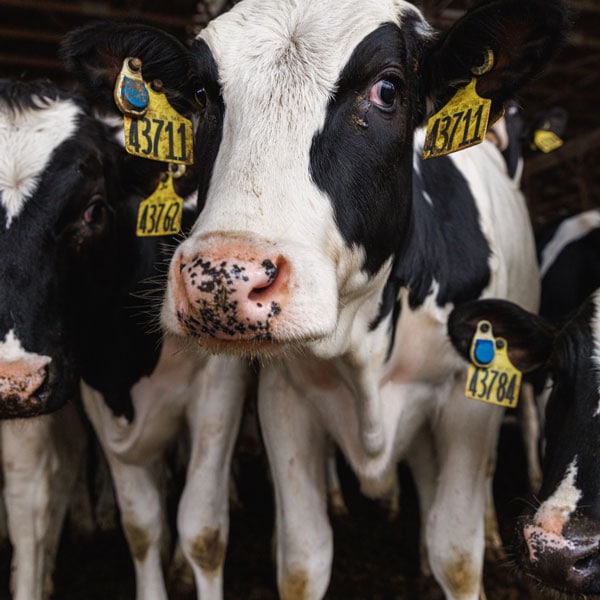 The Five Freedoms
No less than the gold standard for our girls! Vital Farms butter begins with cows that are ethically raised on family farms following the Five Freedoms that support their mental and physical well-being. These Five Freedoms are recognized as the gold standard for animal welfare.
Freedom from hunger and thirst
Nutritionists help farmers give girls a delicious, balanced diet, and clean, fresh water is abundant.
Freedom from discomfort
Farmers provide plenty of clean, dry, comfortable space for lying down quietly or socializing – our girls do what they please!
Freedom from pain, injury, or disease
Cows are milked up to three times a day (they can get uncomfortable otherwise), and farmers offer both holistic and veterinary care when needed to keep the girls healthy and happy.
Freedom from fear and distress
Farmers form essential bonds with calves at an early age, minimizing their stress. Regular routines and inviting barns help cows feel safe and secure.
Compound Butter
While compound butter may sound fancy, it's easy to execute and even easier to enjoy! We recommend an herb combo below, but feel free to mix it up with what you have on hand. This flavor-packed butter is perfect for slathering onto sweet corn, topping a baked potato, or roasting a plank of salmon.
Ingredients
½ cup butter, at room temp
1 tablespoon finely chopped dill
1 tablespoon finely chopped chives
½ clove garlic, grated
½ teaspoon sea salt
Instructions
In a small bowl, stir together the softened butter and all ingredients. Scoop the herb butter onto a piece of parchment paper or plastic wrap, roll into a log and twist the ends to close. Chill overnight, or until firm. Serve with toast, celery, or crackers.