An Honest Day's
Work Starts Here
At Vital Farms, we're on a mission to bring ethically produced food to the table. From our team at Egg Central Station in Springfield, MO where we wash, pack and ship eggs to our HQ crewmembers in Austin, TX and beyond, we are a passionate group of people who wholeheartedly believe in our ability to improve the lives of people, animals and planet through food.
Our fast-paced work environment opens the door to a fulfilling career with compassionate crewmembers who are continuously raising the standards of ethical food. Think you could contribute to the crew? Come be a part of Where Honest Food Is Raised.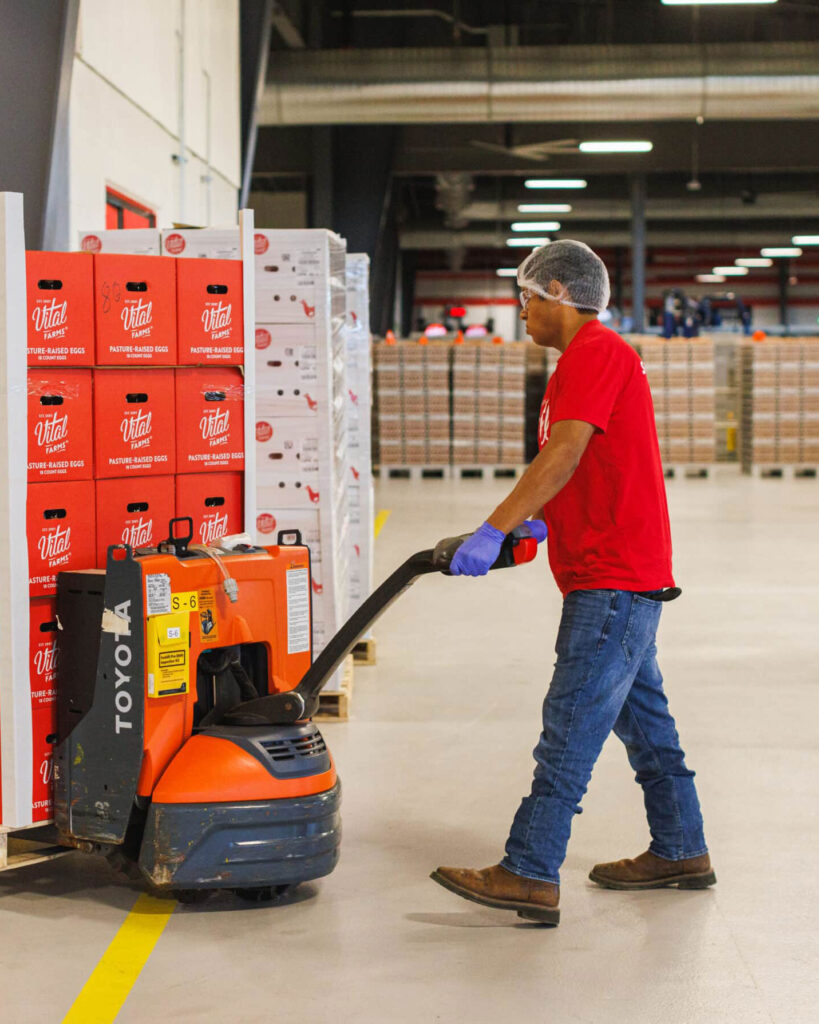 Egg Central Station
The Egg Central Station crew operates our award-winning, newly expanded egg-washing and packing facility. This Springfield, MO-based team works together to receive pasture-raised eggs directly from our farmers and take them through a journey of grading, washing, and packing. Our ECS crew members are inspired to reach their career goals through our online learning curriculum, coaching, and career advancement opportunities.
Working Remote
When you're disrupting food for good, pivoting is part of the secret sauce. Many of our roles are now fully remote! We've cultivated a flexible workplace that embraces a people-first culture while continuing to foster connection and build strong relationships throughout our flock.
Our Values
We strive to create a culture that embodies our values to: Be Humble, Lead with a Growth Mindset, Act Like an Owner, Practice Empathy, and Compete to Win. We believe in empowering our crewmembers by investing in their financial security, professional development, and overall well-being.
As a certified B-Corp, every decision we make prioritizes the long-term benefit to our stakeholders. We are dedicated to using our business as a force for good, with the intention of making the world a better place.
From Egg Central Station, to Farmer Support to HQ, hear from the crewmembers who are raising the standards.
Amanda
Egg Central Station Shift Supervisor
"My favorite things about working at Vital farms are the ability to grow along with the company and the people! When I first came to Vital Farms I had no idea what the manufacturing industry was like but I was eager to learn. I started out as a processing associate and worked my way up to shift supervisor. The wonderful people that work here encouraged me every step of the way and help me stay motivated to continue growing!"
Jamie
Sr. Farm Support Process & Engagement Manager
"It's rewarding to be a part of an impactful company that disrupts the food industry for the better. I have the pleasure of working alongside an amazing team where we have the opportunity to make a difference. I think that's what makes Vital Farms' culture so unique. I like to say that our careers are much like the girls out on pasture. We have the freedom to explore and stretch our wings to our full potential!"
Michael
Regional Sales Manager
"I am proud to say that I work for Vital Farms. The people and the culture that we have created are what makes us truly unique. Vital Farms has given me the opportunity to grow both personally and professionally while giving us the autonomy to lead with a growth mindset. We are building much more than a company, but rather a movement to bring ethical food to the table!"
Stefanie
Executive Assistant
"I absolutely love keeping it bullsh*t free at Vital Farms! I am so grateful to work alongside amazing and inspiring (and sometimes feathery) crew members that make every day enjoyable. I have such a strong sense of pride in working here and being a part of the impact that Vital Farms is creating to help the planet and improve the lives of people and animals. It's an egg-cellent place to be!"
Crew Benefits
401(k) + 3% Contribution from Day 1
Medical Insurance
Dental Insurance
Paid Parental Leave
Company Paid Life Insurance and AD&D
Company Swag
Companywide Bonus Program
Vision Insurance
Casual Work Environment
Free Eggs, Butter, & Ghee