This recipe is part of the
Buttery, garlicky toasted buns and a crunchy pickled topping elevate this hot dog to new heights. Making your own giardiniera is easy, but feel free to use store-bought—just make sure to chop it into bite-sized pieces.
Serves: 6 hot dogs
Takes less than 30 minutes
Ingredients
4 tablespoons Vital Farms Sea Salted Butter, softened
1–2 garlic cloves, finely chopped or grated
1 tablespoon finely chopped fresh parsley
6 hot dog buns
6 Applegate Great Organic Beef Hot Dogs ½ cup chopped Overnight Giardiniera
Instructions
STEP 1
Mash together the softened butter, garlic and parsley in a small bowl until thoroughly combined. Spread the mixture evenly on the insides of the hot dog buns. Set the buns on a baking sheet and broil until golden-brown.
STEP 2
Meanwhile, grill the hot dogs according to package instructions. Place the grilled hot dogs inside the toasted buns and top with some of the chopped giardiniera. Serve at once.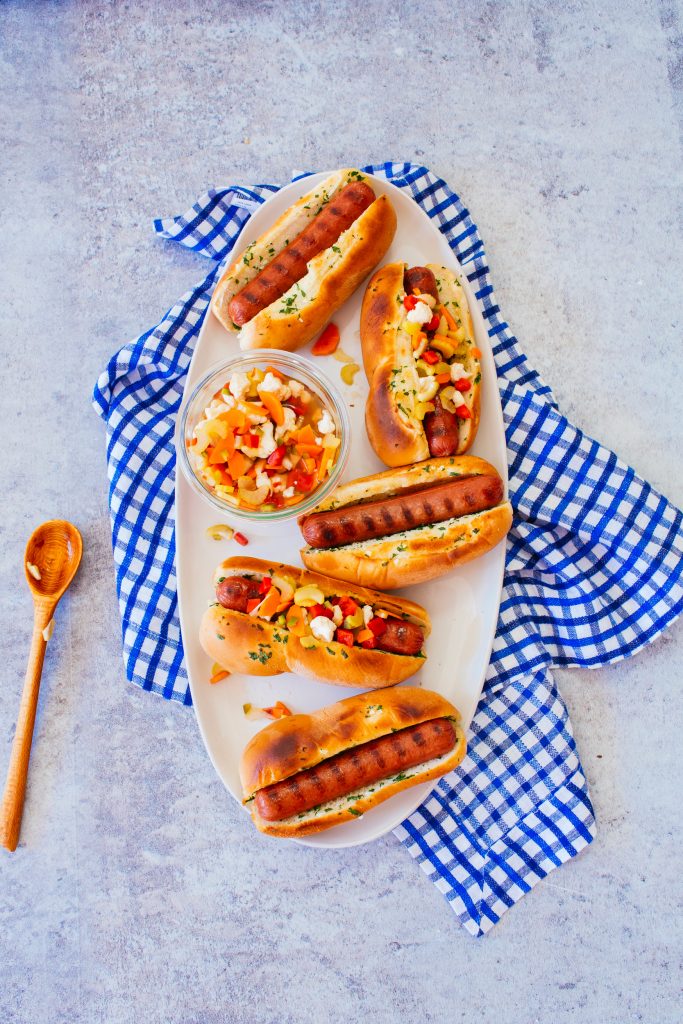 Overnight Giardiniera
Chop the vegetables into bite-sized pieces, which make them easier to eat when spooned over a hot dog or tucked into a sandwich.
Makes about 2 cups
Takes less than 30 minutes (plus resting overnight)
Ingredients
½ cup chopped cauliflower
½ cup chopped red bell pepper
½ cup chopped carrots
½ cup chopped celery
½–1 jalapeño, seeded and chopped
½ red wine vinegar
½ cup water
½ teaspoon kosher salt
¼ teaspoon crushed red pepper flakes
Instructions
Combine the vegetables in a bowl and toss well to combine. Pack the vegetables into a pint jar.
Combine the vinegar, water, salt and crushed red pepper flakes in a small saucepan and bring to boil, stirring until salt is dissolved. Pour the hot vinegar mixture over the vegetables in the jar, seal and refrigerate overnight before serving. Giardiniera will keep up to 1 month in the refrigerator.