Wrap With Ease
Thoughtfully designed with sustainability in mind, our Holiday Kit includes gift boxes, tissue paper, ribbon,
decorative stickers and more. Take a peek at our tutorials below to see all the ways you can wrap!
Style 1: Furoshiki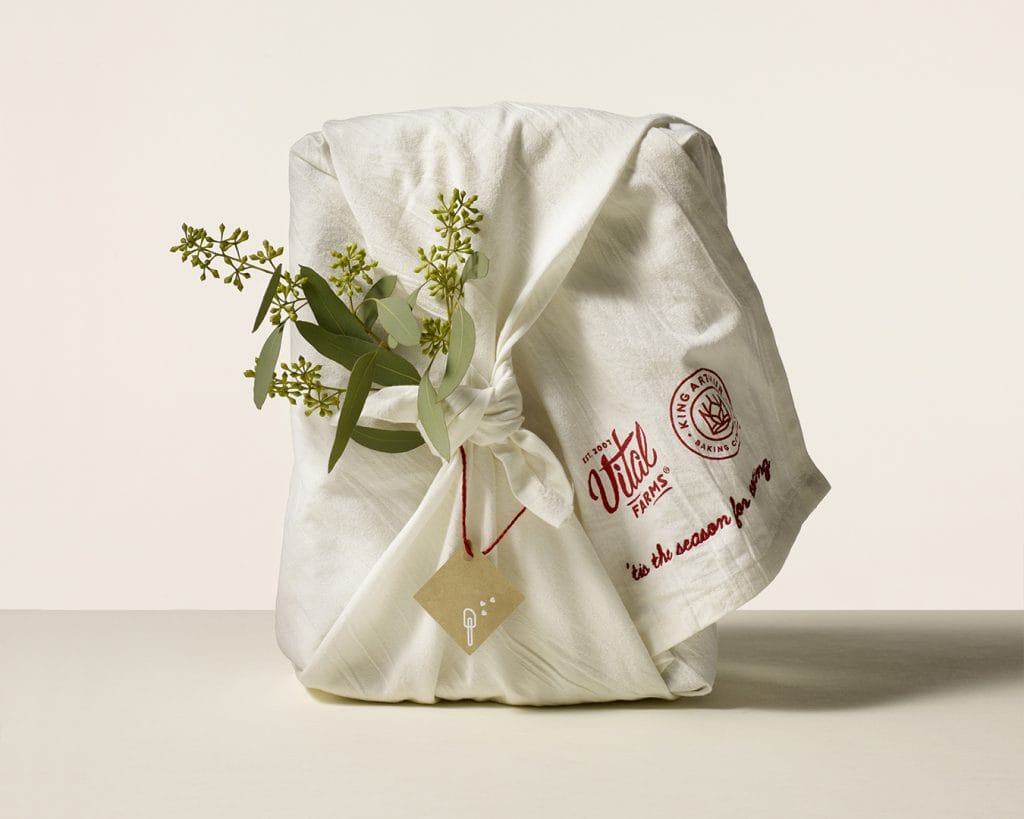 Supplies Needed:
large drawer box
tea towel
eucalyptus stem
(optional) gift tag
1.
Place the box in the middle of the tea towel, and fold one corner diagonally across the box.
2.
Tuck any excess towel underneath the box and fold the opposite corner over the top
3.
Take the two remaining corners and bring them to the center
4.
Tie both ends together, and place the eucalyptus stem underneath the knot to adorn your gift.
If you'd like to use a gift tag on this package, just place it on the slim end of the tea towel before tying it into a knot!
Style 2: Cylinder Cookie Tube
Supplies needed:
cylinder tube
ribbon
gift tag
(optional) sticker sheet
Fill your cylinder with a sheet of tissue paper & your freshly baked treats! Then:
1.
Place gift tag on strand of ribbon.
2.
Place the ribbon around the center of the tube & tie in a bow.
Mix it up
Feel free to swap out the gift tag for one of the sticker from the sticker sheet!
Style 3: Parchment Sleeves
Supplies needed:
Parchment Sleeves
Sticker sheet
1.
Fill the parchment sleeves with treats. The sleeves are perfect for 2-3 cookies each, a handful of truffles or your signature holiday baked good.
2.
Fold over the lip of the sleeve and seal with a sticker! You can also leave the sleeve open and adorn with stickers.
Don't forget to share your gifting stories by tagging #BakeItForward on social along with @vitalfarms and @kingarthurbaking!