See the farm where your eggs were laid! Enter the farm name from the side panel of your carton below for a 360° peek at the pasture!
Don't have a carton on hand but want to visit a farm? Check out our featured farm, Hills&Hollers
The Vital Farms
Difference
We began as a single farm. As we grew, we didn't make our farm bigger – we found more like-minded farmers who put the welfare of their two-legged and four-legged girls first. Today, over 225 small family farms commit to our exacting standards and the pasture-raised practices that are best for hens, cows and land.
Where do the
Girls Live?
Vital Farms hens enjoy fresh air and sunshine in a region of the US we call the Pasture Belt. Each of our small family farms thrives in this region, those warmer-weather states where the winters are mild, and the girls can nosh on native grasses year-round. Because we prefer to raise winter layers, not wear them!
Our Farmers
When it comes to producing food ethically, Vital Farmers are outstanding in their fields and pastures. We're proud to work with people as committed to animal welfare and ethical eating as we are. We support them with fair pay, in addition to resources and expert advice from our dedicated Farmer Support Team.
Trevor, BFF Farms
Armed with a mechanical engineering degree, Trevor never saw himself pursuing agriculture, a common trade in his hometown, but after exploring the food industry and learning more about food systems, he and his wife began to look into ways they could play a role in making farming better. Seven years later, Trevor and his family now own a farm and have been farming with Vital Farms for a little over a year. His wife, a physical therapy assistant, their parents and their two kids all play a role in taking care of the girls. From cleaning out the egg room, to everyday upkeep – BFF is powered by the Bough family.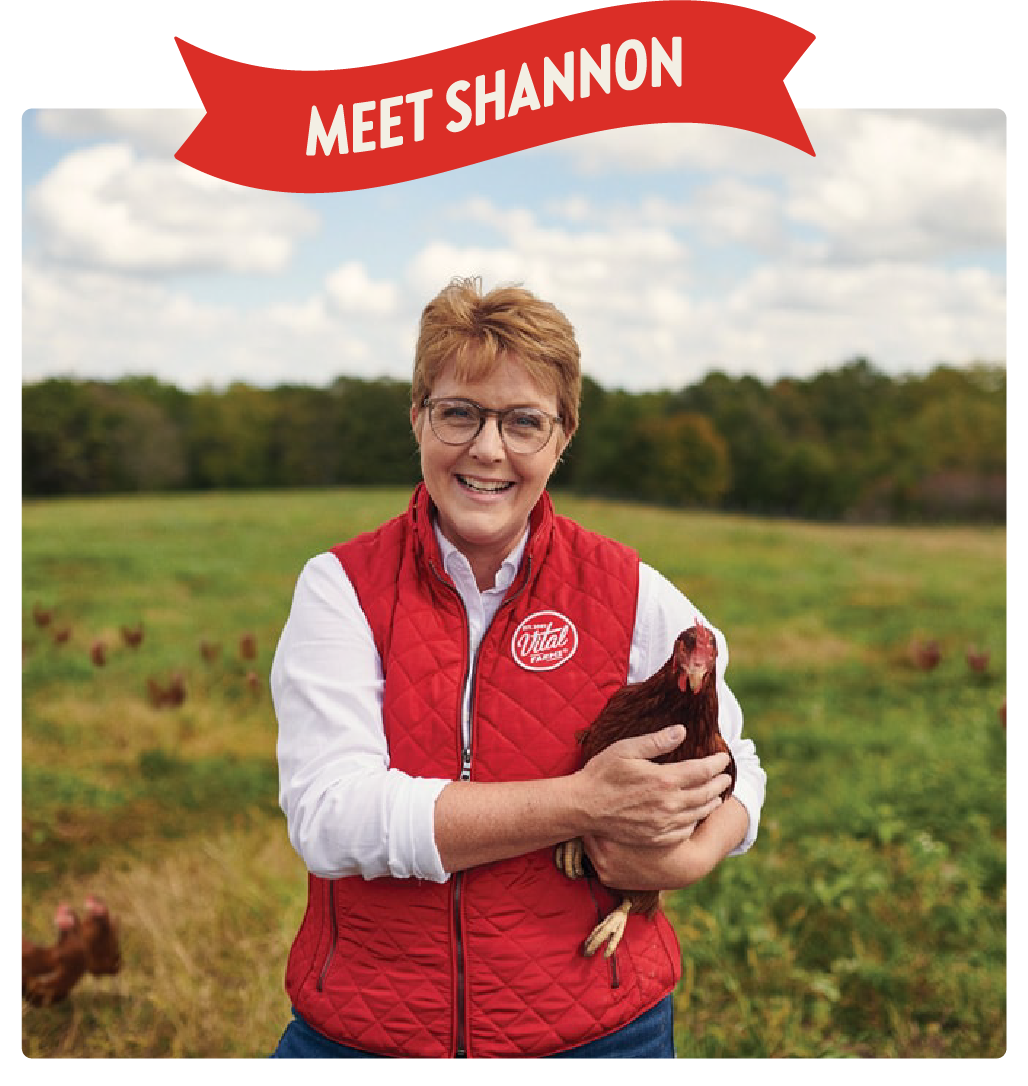 Shannon, Lukes Chickens
Shannon's enthusiasm and dedication to her girls is a sight to see. To Shannon, embracing the farming lifestyle and raising pasture-raised hens is just an extension of her belief to treat animals right and eat natural. Shannon's farm, Lukes Chickens, is named after her tail-wagging pup, Luke.
Clay, Dairy Farmer
Clay is a 5th generation dairy farmer who supplies pasture-raised cream for Vital Farms. His family farmed in New York and Florida for many years, but in 1993 they chose to make South Georgia home. Today, Clay works closely with his father, uncle, and brother-in-law raising a host of grazing girls, comprised of Holsteins, Jerseys, and Norwegian Reds, who supply the rich cream that is churned into Vital Farms butter. Clay believes the most important character traits that aid in ethical dairy farming are having strong empathy and compassion.
Join our Flock
& Enjoy $1 Off